Meet the Student: Melody Mandevere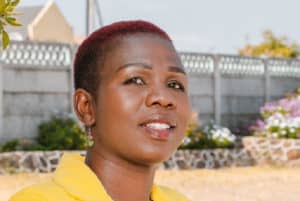 Melody Mandevere is a PhD student with over 15 years of experience in administration and project management. She is also a researcher who is passionate about the continent where we look within Africa to solve African problems.
Q: Your field of study and what inspired you to take this path 
A: I am currently studying Corporate Social Responsibility in the mining sector.  I believe that Southern Africa has vast mineral resources and despite this, the mining communities seem not to benefit much from it. They are wallowing in poverty, yet they have minerals all around them, which is disappointing and shows a clear error in the system.  As Africans, we need to understand what we can do to benefit from our natural resources so that we can break the poverty cycle through receiving and utilising the minerals, as well as educating ourselves on the matter. 
Q: What have you learnt or seen that have been vital for your career or that has stood out most for you? 
A: Throughout my studies, I have grown to understand how CSR is viewed by different stakeholders. The corporates have their own understanding which is not entirely in line with the communities' expectations. This is how the disconnect is created and why the poverty cycle continues – what affects the communities even more is the lack of or inadequate regulations, which have not made things any easier.  Even though large amounts are reported to be channelled to CSR, there is little to show for it on the ground and this is unfortunate.  Minerals are finite – there will come a time where mineral mining will be history, but the communities won't have anything to show for it. Minerals being mined now should benefit this generation and something should be invested for the next generations. The time to act is now.
Q: How do you think your research will make an impact in the social investment space?
A: My research is a comparative study between Zimbabwe and South Africa. By comparing the two countries, it will help them as well as other African countries to learn from each other's experiences. It also brings out the importance of formulating CSR policies that will have a positive impact on sustainability in the mining communities. This research will help corporates understand the expectations of the CSR beneficiaries.