Aspire Higher is a social investment initiative that has transformed the way in which we practice social responsibility and development in Africa.  
The program started when Reckitt approached Wits about a collaboration for their social investment portfolio, that aimed to help young girls access and engage in sexual health education. As CAPSI, we capitalized on this opportunity by aligning it with our social entrepreneurship and innovation program that is derived from several pillars of philanthropy and social investment. 
This was an excellent opportunity to work with the private sector to address a social issue. In this case, it was the scourge of HIV/AIDS, as well as the associated issues of teen pregnancy and sexually transmitted diseases. Given the mandates of the two institutions, it became clear that there was a need to develop a project that would build on the School and Centre's programs while also utilizing the private sector's experience to solve this societal pandemic. 
After issuing a call for applications to postgraduate students at Wits, 30 proposals were received from female leaders and only four made it to the shortlist namely, Girllead SA, Aganang, Imbokodo Launchpad and The Gratitude Project.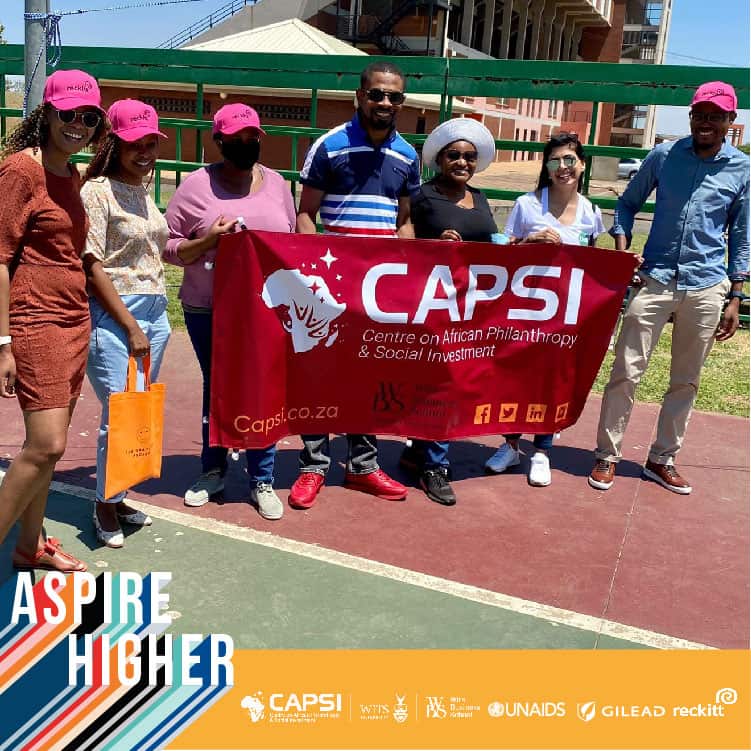 Our Vision for Aspire Higher
We want to change the future for young Africans. Our vision is that 100% of Girls & Young Women in sub-Saharan Africa will have access to engaging sexual health education by 2025.  
As CAPSI and the School (in collaboration with our partners), we hope that this project will contribute to addressing social challenges and sexual health through social entrepreneurship, collaborations, knowledge production, and, most importantly, long-term empowerment of girls. This is what distinguishes this project. It is comprehensive and all-encompassing. Our hope, and that of our partners, is that this can be replicated in other countries where both Gilead and Reckitt have operations. 
Girllead SA is an organisation that aims to empower young women at every level by reducing unplanned pregnancies and HIV. Watch the video to hear more of their Aspire Higher Journey. 
The Gratitude Project is a non-profit organisation that is championed by a team of young women whose aim is to increase access to wellness for through digitized solutions for disadvantaged young women. Watch the video below to hear more of their Aspire Higher Journey. 
Imbokodo Launchpad's work aims to address the effects of HIV/AIDS amongst adolescent girls and young women in South African townships. It creates an environment for young women that challenges social attitudes towards HIV/AIDS. 

The finalists of the Aspire Higher Competition presented their projects and showcased their impact to a panel of judges that featured our Director, Dr Bhekinkosi Moyo, DJ Sbu, an influential entrepreneur, philanthropist, and award-winning musician, Dr Michael Reid of Gilead Sciences and Peter Edwards of Reckitt.
Representatives from each of the teams presented their journey outcomes to all in attendance, profiling how they tactically implemented activities and managed their projects with the support provided to them by sponsors. Each of the teams also showed how they were able to leverage on innovative problem solving which enhanced the experience of their identified communities.  
Winning the competition was Imbokodo Launchpad that was represented by its founder, Jazzman Simelane. 
Imbokodo Launchpad was awarded £80 000 (approximately R1 500 000), which will go towards scaling the implementation of the project to provide education on sexual and reproductive wellness to young girls in Tsakane township in Johannesburg, South Africa.