Get to know CAPSI Research Student: Matilda Owusu-Ansah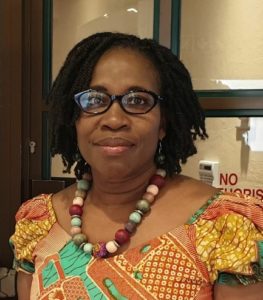 Matilda Owusu-Ansah is a PhD student who is passionate about philanthropy and making a positive impact in her communities. The experience she has gained in philanthropy has allowed her to be a positive and motivating force in her projects.
Q: What are you researching and what inspired you to take this path?
My decision to pursue a doctoral in the field of philanthropy comes after several years of work in both government and non-governmental organisations. It is borne out of a deep and growing desire to challenge myself academically, to contribute to existing knowledge in the humanitarian sector through empirical research and to understand the giving behaviour of people better. It is also to explore opportunities for personal development, network, skills transfer with experts and to find ways to improve the lives of the vulnerable in society. Since 1993, I have had the privilege of making a difference in the lives of children, young people and communities by working with two international NGOs, and this has influenced my thinking and experience with philanthropy. While working with the Planned Parenthood Association of Ghana and the SOS Children's Villages International in various capacities, I have come to appreciate the need to attract local sponsors to support the work of the civil society. I am curious to understand the motivations for philanthropic giving in Africa.
Q: What have you learnt or seen that has been vital for your career or that has stood out most for you?
After two and a half decades of working in environments that were less rigorous and exact, I realised quite early that this new academic pursuit would be challenging and exciting. It would require long hours of careful and methodological work, a fair dose of frustration and confusion, and the right balance of work, school and family life. What stood out for me was the vital and supporting role of the supervisory process and how this could either enhance or impede achieving my academic goal.
The importance of establishing mutual expectations that would lead to an effective supervisory process was critical, and I have come to appreciate the essential role of the supervisor. Regular meetings to discuss my work, clarifying misunderstandings, reading drafts, being available and responsive in the most appropriate manner has facilitated my progress. Without being pampered or favoured, supervision has included the provision of relevant material, expert advice, suggestions in the topic area and both positive and corrective feedback. My exposure to other academic opportunities like conferences, workshops and seminars have provided the space to interact and exchange with other scholars.
Q: What is the potential impact of your research in the social investment space?
A study on what motivates charitable giving among Ghanaians is relevant for researchers, practitioners and policymakers in many ways. Firstly, it will provide an in-depth understanding of how intrinsic and extrinsic motivations are associated with altruistic behaviours of Ghanaians. Secondly, knowledge and understanding of influencers to charitable decision making provides a model and profile of the individual Ghanaian donor that is relevant and useful to those who work in the non-profit sector. The social, political and economic environment which non-profit organisations work within, requires a deeper understanding of donor motivations to better connect and communicate with them. Most charitable organisations are experienced in attracting public and private sector funding, but do not have empirical data on individual donors. There is a need to understand personal preferences and what makes people want to donate. Understanding personal preferences will make it possible to keep existing donors and attract potential and new resources required for projects. Thirdly, a study that helps to describe and understand what influences Ghanaians to donate, can be useful in soliciting and re-channelling philanthropic activities to align with government priorities. Finally, with many existing studies and literature on philanthropy, mainly from countries in the developed economies, the uniqueness of giving in Ghana is almost non-existent in the literature. This study will contribute to providing information specific to the Ghanaian context.