From the desk of the Director – December 2020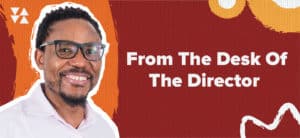 As we end what proved to be a year filled with much uncertainty, not all is doom and gloom. There are rays of hope in the medical field. Verified news reports confirm that there are more than 100 vaccine candidates that are currently undergoing development for COVID 19 across the world, twelve of which are at the large scale phase 111 clinical trials to assess their efficacy and safety. Furthermore, three of these developed by BioNtech/Pfizer, Moderna and Oxford university have been reported to be highly effective. Help is on the way.
What we know however is that a 'new normal' has been developed and new ways of living our lives have taken root. Certainly going forward, we have no choice but to build hybrids between the old and the new. This is certainly how we see things and the future at CAPSI. While we have learnt that the new tools of work create new levels of efficiency, we have seen that these don't necessarily legitimize the outcomes. With this as a lesson learnt, we will strive to blend new tools around our research, academic and outreach programmes but still strive to enable the human touch on issues that require validation, inclusion and participation.
As the year ends, we feel propelled to do more in 2021. But to prepare for this, we need to ask ourselves a few critical questions. What have we achieved this year? What challenges did we face? How did we manage them?
Academic matters
After 3 years of hard work by our staff and partners, I'm excited to share that our Masters in African Philanthropy Degree is now an accredited programme by the Council on Higher Education!  We will spend the coming year developing the systems and logistics required to ensure that the programme delivers on its commitments and provides students with a one-of-a-kind experience. Additionally, we will dedicate time and resources towards popularizing the Degree as well as also on student recruitment for 2022 academic year. I want to take this opportunity to thank everyone who was involved from the beginning to the end. We look forward to welcoming some of you in 2022 as you journey towards a new world in philanthropy and social investment.
Staying with academic matters, CAPSI and Wits Business School will be offering a Postgraduate Diploma in Philanthropy and Resource Mobilization in July 2021. This will pave the way for vertical articulation into the Masters programme in 2022 and beyond. We rolled out the first six masterclasses this year and we are excited that the interest was high and that we attracted students from across Africa. For the coming year, you can look forward to a further revised offering that is based on the reflections and experiences of the first cohort of students. This will ensure that the 2021 cohort of masterclass and academic programme students can look forward to an even better experience.
We are excited about the growth potential of our student intake, especially into our doctoral programme. As we end the year, we had fourteen doctoral students and our first PhD graduate, Noathemba Memela, receiving her doctorate at a graduation ceremony held on the 14th December.
We are also ending the year with a video that takes a retrospective look at what the Centre has been able to achieve since its inception. Establishing a Centre of this nature required several consultations, strategic insights, financial support, political support and social capital among others. It also required sequencing of interventions and frontloading some in order to build a footprint. From the video, it is clear that we prioritized systems and processes in the beginning so as to get the foundation right. Then, we developed programmes and frontloaded research and curriculum development and complimented these with dialogues and meetings. As a result, we now have an academic programme, a research programme and convenings as flagships of the Centre. And recently we added the Journal. Next, we will begin focusing on the fourth initiative around the measurement of philanthropy.
Partnerships
As the Centre continues to grow, there are demands and contextual shifts that have an impact on us and on our work. New skills sets are required especially in such areas as data mining, digital technologies, and knowledge management among others. The Centre has been proactive in responding to these requirements so as to remain relevant. One of our responses includes welcoming a Digital Publisher to our team, who is responsible for coordinating all our publications.
I want to thank our donors who include Carnegie Corporation of New York, Ford Foundation, Charles Stewart Mott Foundation, Konrad Adenauer Foundation, Reckitt Benckiser, Gilead and Wits University for putting their faith in a new initiative and with their support, we have been able to achieve our goals. Secondly, our strategic partners have weathered the pandemic storm with us. We held several events jointly with the African Union Development Agency-Nepad, Mandela Institute for Development Studies (MINDS), Southern Africa Trust, Graça Machel Trust, International Society for Third Sector Research (ISTR), Association for Research on Civil Society in Africa (AROCSA), Harvard Centre on African Studies, African Philanthropy Forum, African Philanthropy Network, East Africa Philanthropy Network and Higher Life Foundation, among others. I also want to extend our sincere gratitude to our advisory and editorial boards that have offered us valuable support as we navigated new terrains.
I wish to end the letter by wishing everyone a very safe festive season. The pandemic is still with us. Please exercise caution, adhere to WHO Guidelines. We are looking forward to reconnecting with you next year as we consolidate our work.
Festive season greetings
Bheki